John Collins Warren 1778 - 1856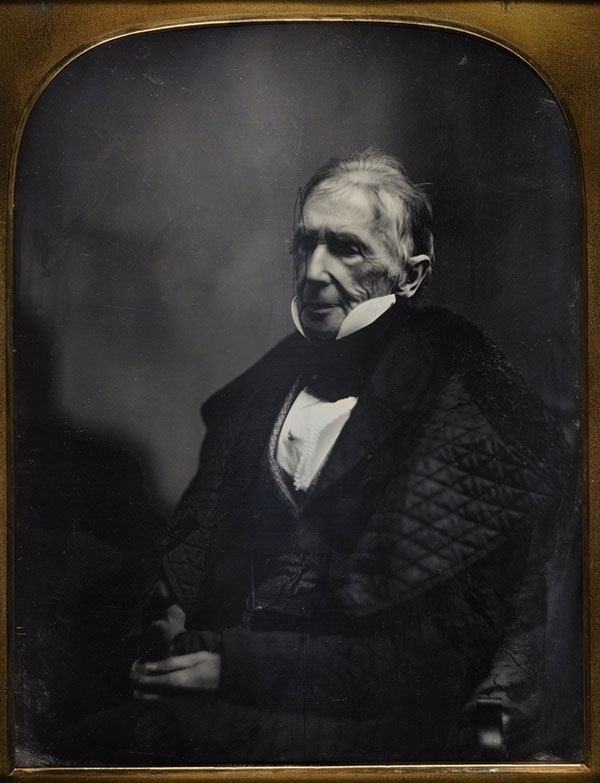 John Collins Warren (1778-1856) was a distinguished Boston physician who taught anatomy and surgery at Harvard Medical School, as well as an accomplished naturalist and active member of the Boston Society of Natural History (BSNH). His father, also named John Warren, was a prominent surgeon who helped to found Harvard Medical School. His uncle was General Joseph Warren, the famous Revolutionary War hero killed in the Battle of Bunker Hill. At least two of Uncle Joseph's orphaned children came to live with John Warren's family. One of them, Mary, married a prominent lawyer from Greenfield, which may have given Warren additional reason to take an interest in the Connecticut River Valley's fossil "bird tracks."
Warren graduated from Harvard College in 1797. He studied medicine under his father and then continued medical studies in Europe, training for a period in Paris under the anatomist Georges Cuvier. Warren's ensuing career was, like his father's, distinguished by significant "firsts": first dean of Harvard Medical School, co-founder of the New England Journal of Medicine, and a founder of the Massachusetts General Hospital. As the hospital's first surgeon, Dr. Warren performed the first operation on a patient anesthetized by ether, on October 16, 1846. BSNH members Augustus Gould, a conchologist, and Henry J. Bigelow, whose father used Orra White Hitchcock's botanical drawings in his Medical Botany, were in attendance at the surgery. A painting commemorating the event was made years later, in 1893, by Robert Cutler Hinckley. In recent times, the hospital commissioned another painting of the scene, unveiled on October 16, 2001, exactly 150 years to the day after the surgery was performed.
Warren obtained footprint specimens from James Deane starting at least in 1845 and may have purchased others from Dexter Marsh. It is certain that after Marsh died, Warren became a customer of Roswell Field, whose property in Gill, Massachusetts, held the valley's richest lodes of fossil tracks. In the 1850s, he coordinated an exchange of fossils between Field and the Scottish baronet Sir William Jardine. Warren published the first illustrated book on the Connecticut River Valley footprints, Remarks on some Fossil Impressions in the Sandstone Rocks of Connecticut River, in 1854, with a salt print photograph of one of James Deane's footprint specimens facing the title page. He wrote numerous other pieces on the topic in the Proceedings of the Boston Society of Natural History.
Warren's interest in natural history extended beyond the fossil footprints. His collections of paleontological and geological specimens included one of the best-preserved mastodon skeletons, excavated from the Hudson Valley in 1846, about which he produced a lavishly illustrated monograph in 1852. His collection was exhibited at the museum operated by the BSNH for many years. When the museum was disbanded, many of these specimens were transferred to the Harvard Medical School's Francis A. Countway Library of Medicine.