Roswell Field 1804 - 1882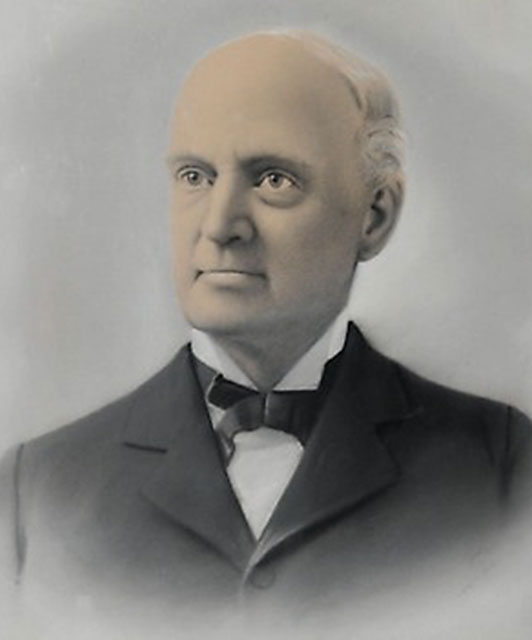 Roswell Field was born in Warwick, Massachusetts, and grew up in nearby Northfield when his widowed mother remarried into the Morgan family. In 1842, he settled on a farm on the banks of the Connecticut River in Gill, the next town over, across the river from Turners Falls. He was a broker of properties, lumber merchant, farmer, and money lender. He also quarried fossil footprints and other ichnofossils from his land, sometimes with hired help and sometimes on his own. He sold fossils, and he leased his land to others interested in quarrying. Field took the place of Dexter Marsh of nearby Greenfield as primary provider of fossil footprints to collectors and museums upon Marsh's death in 1853. For the next twenty to thirty years most collectors, scientists, and institutions obtained their fossil footprints from Roswell Field.
In the process of digging, Field discovered new species of early creatures. He presented a paper on ornithichnites ("bird track" fossils) at the 1859 annual meeting for the American Association for the Advancement of Science in Springfield, Massachusetts, where he announced that the tracks were not made by birds, but by reptiles. It was a bold, new claim made by an amateur, but one who had an extremely rich quarry of tracks on his land, which meant that he had probably seen a much greater variety and higher number of tracks than many professional fossil scientists. Even though Roswell Field was considered an amateur by the professionals with whom he dealt, his hypothesis would eventually be proven to be correct.
He was one of the small group who helped to finish James Deane's opus, Ichnographs from the Sandstone of Connecticut River, after the author's death in 1858. He also is listed among the donors to Appleton Cabinet for his gift of fossil specimens to Edward Hitchcock. Many years later, in 1876, Thomas Henry Huxley visited Field and his neighbor (and rival) Timothy Stoughton to see their collections of fossil tracks. A newspaper account says that Huxley quickly made a sketch of what he thought one of the track makers looked like.
Field remained a single man. He died in 1882, and is buried in the Northfield Farms Cemetery in Northfield.