People
Gideon Algernon Mantell 1790 - 1852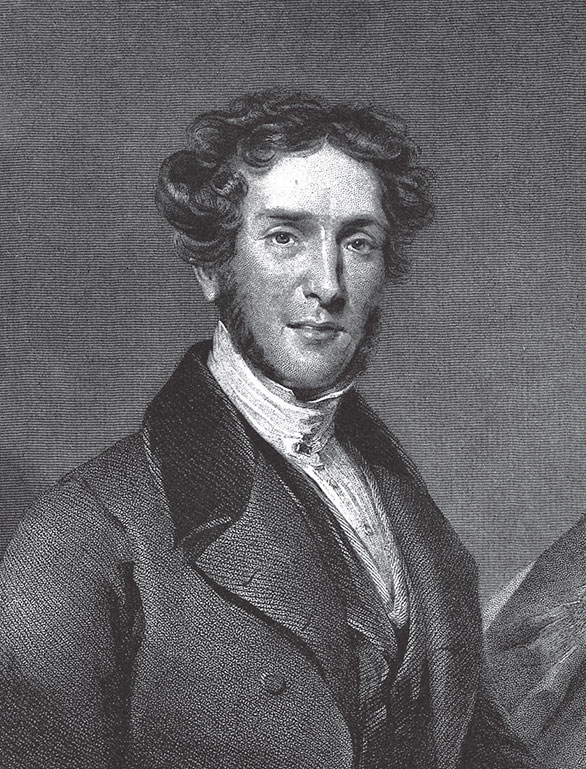 Gideon Mantell (1790-1852) was an English physician and geologist. His first important fossil discovery was of large bones in the on the South Downs of Sussex in the 1820s. However, he is most known for a discovery possibly made by his wife, Mary Ann Woodhouse Mantell. The story is that in 1822, she noticed a large fossilized tooth, which she took to her husband, but since no record of the event exists, it is not certain which Mantell picked up the tooth. However, after much study and searching, Gideon Mantell found similar teeth belonging to an iguana at London's Hunterian Museum of the Royal College of Surgeons. He thus named the creature from which his specimens came the Iguanodon, after rejecting the suggestion of Cuvier in Paris that it belonged to a rhinoceros. Based on the shape of the teeth he conjectured that although the creature was reptilian, it was not a carnivore, as are existing reptiles and as was the only other dinosaur known at the time, the Megalosaurus. Mantell was much ridiculed for holding to this belief, but he persisted, and finally, in 1825, he published his paper, "Notice on the Iguanodon, a Newly Discovered Fossil Reptile, from the Sandstone of Tilgate Forest, in Sussex".
Mary Ann Mantell eventually divorced her husband for neglecting her in favor of his beloved fossils. He died in 1852, after taking an overdose of morphine that he had been addicted to since injuring his spine in a carriage accident in 1841.
Dexter Marsh and James Deane together sent Gideon Mantell track specimens that he exhibited at a meeting of the Geology Society of London. He also read the society a letter about fossil footprints sent to him by Deane, accompanied by plaster casts, which may have been the spark that set off the priority dispute between Deane and Edward Hitchcock over the discovery of fossil footprints. When he realized how upset Hitchcock was, he apologized that he had not understood that there was any question of credit, but he noted also that Charles Lyell sometimes took credit for his own discoveries, too. The apology was accepted. When Edward and Orra Hitchcock toured England in 1850, they visited Gideon Mantell for tea and were given a personal tour of his home museum.